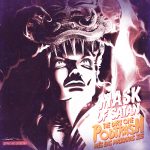 Ma che Horrore! Ah Medo! Desespiero! Paura!
Pois é meus caros amigos e ouvintes, estamos aqui reunidos para um mês temático no Podtrash! Já que Fevereiro será Carnaval, vamos fazer o mês dos Mascarados aqui no Podtrash… Um verdadeiro Baile do Horror!
E para começar decidirmos falar do clássico de 1960 do mestre Mario Bava, o Black Sunday um ou se preferirem, Mask of The Satan!
Então aumentem seus iPods porque mais um Podtrash está no ar!
Duração: 90'41"
Média TD1P: 4,75
ELENCO
ARTE DO BANNER
EXTRAS DESTE PODTRASH
Escute no Spotify
FEEDS E LINKS DO PODTRASH
CONTATOS DO PODTRASH
CAPA DESTE PODTRASH
Podcast: Reproduzir em uma nova janela | Baixar (Duração: 1:30:41 — 64.5MB)